Welcome to Whitetail Deer Information
Life of the Whitetail Deer in the Late Fall

With the change of each season we try to provide good Whitetail Deer Information, along with good Whitetail Deer Photos. I have been very late about taking care of the site and I do have to say sorry about my absence. Here we go and thanks again for visiting. Our Fall has been OK weather wise. The Whitetail Deer seem to of had a fair summer season and early fall, our area lacks any large amount of acorns but you never know until you walk the woods. Our Whitetail Deer population along with Turkeys and other critters seems to be sort of stable. The Whitetail Buck Deer have grown their antlers. I look forward to getting the chance to get some time in the woods checking on sign. I spent two days in early June putting in some food plots. Only the turnips, beets and some pumpkin came up because of the lact of rain during June and July.
I have planted some more beets along with some Rye and Timothy grass seeds. The Rye was 2 inches tall in 8 days. I now have to put some lime down along with some fertilizer.We put the lime and fertilizer down last week on 8-25 so heres hoping it helps our plots. Our food plots are being visited and the beets tops are now gone, mowed down on the middle of October.

Our son is now deployed with the 10th Mountain Division some place in Afghanistan so I ask everyone that visits our site to keep him and all our troops in harm's way in their prayers.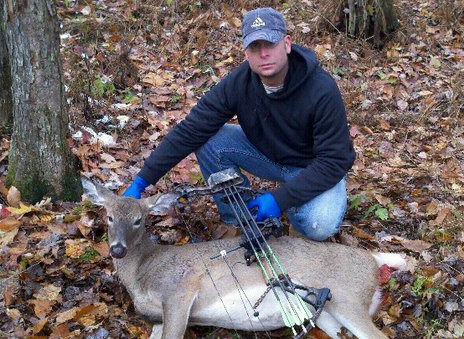 Our son has come home on leave and we are now spending some time hunting, he did harvest a nice doe and we will put up a picture soon. The Whitetail Deer in our area of western NY are now starting to rutt, I have pictures of bucks putting down scrapes and one of a doe using a licking branch on October 29th. I put several cameras on spots that have had scrapes year after year and sure enough they have given me great pictures. NOW is the time to get hunting hard, the next few days to maybe a week is the time to catch a nice Whitetail Deer Buck off guard. They are moving and putting down the scrapes to mark their areas now. Get out their now. Today, 11-1-11 my son watched 4 does and a nice spike buck come by, he made a rub on one of the small trees. I nice 6 point buck showed up and showed him the door. They tested each other a couple of times and the spike was gone. Good luck and make sure you mark all the scrapes in your area for next year as well. Have fun and take a kid hunting as well. Contact us with your pictures if you can, thanks.

The Whitetail Deer Spike Buck pictured below is one of the first pictures from my trail cameras showing a Buck this year. 2011 Not a bad size Buck and could be considered a Whitetail to harvest by a lot of hunters. I would say to any hunter that wants to harvest this non-typical Whitetail Deer buck you have that right and best of luck.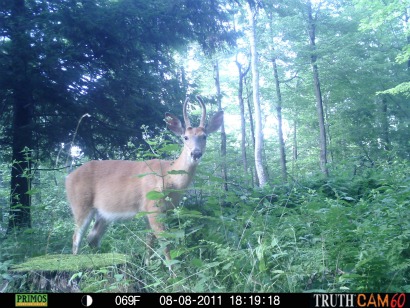 Thanks for stopping by to visit our site.

Please remember to support and thank all of our troops, without them we would not be free to pursue outdoor activities. If you see someone in uniform walk up to them and say "Thank You" for your service.
Check out this All-new Expert Deer Hunting Book With Huge, Excellent Bonuses That Will Attract All Deer Hunters. The Focus Is Hunting Big Trophy-class Bucks
In the picture below are a couple of Typical Whitetail Deer Bucks taken on one of my trail cameras, the bigger one seems to be making a statement to the smaller one. Letting him know where he will stand in a month or so. Whitetail Deer Information sort of.

In the picture below you see what can happen to some trophy Bucks over the winter. Because they are so busy during the rut they do not eat and loose a lot of body weight. With a hard winter they are some of the first to die along with the younger deer. This guy would of been a great wallhanger for some luckey hunter but not now.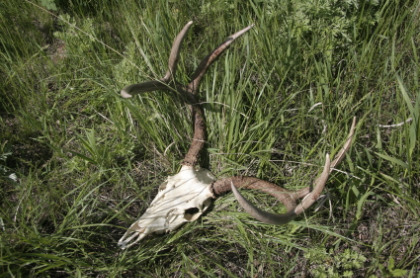 On the land I have partnered with some other friends we had very poor gun hunting. Our logging has been completed and a good job was done by our forester Cory Figueiredo and his partner Scott Graham they worked hard to improve not only our woods as they do for all their clients property for Whitetail Deer habitat and other wildlife.They own Future Forest Consulting Inc. I have been very impressed with their knowledge of the woods and the Whitetail. We will be setting up some sanctuaries on the property that will not be hunted. We will be looking at locations for food plots and some clear cutting. I plan on putting in a small plot of Buckwheat this coming late spring. I will be chronicling the entire process of what we are doing to improve the Whitetail, Turkey and other wildlife present on our property. Now is the time to start planning for your hunting or deer watching. Get out and do some Pre Season Scouting. Check out the trails. Look for the single tracks, because they could be bucks. Do not be afraid to take notes or even mark the trails, Please contact us any time with your ideas. We are working hard on a downloadable field dressing guide. We will be working on a DVD full of useful Whitetail Deer information as well.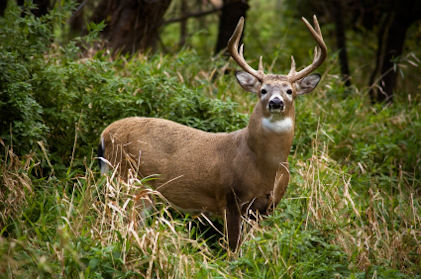 Hunting white tail deer is one of the most popular sports in the country. You can hunt them with bow and arrows, rifles, hand guns and cameras. They are hunted for food and for the challenge of obtaining a trophy rack, or maybe just a great photo.
Hunters who read about record whitetail deer try to put themselves in the place of the hunter. The thrill of bringing down the largest whitetail deer in your area, one with an impressive rack, is something every white tail deer hunter dreams of. Please keep in mind any Whitetail Deer harvested should be considered a trophy. If you follow QDM you need to harvest some does. Remember they are all trophys in my opinion

From Birth to the Great Hunt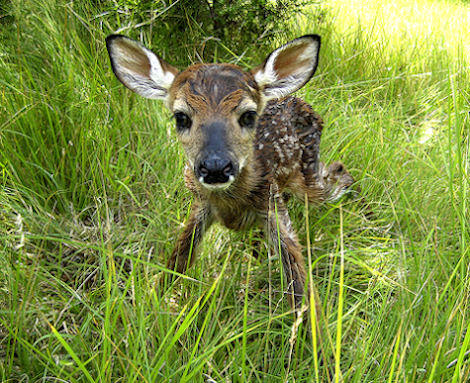 Learning about the behavior of white-tail deer begins with a good understanding of how whitetail fawns grow into yearlings and then adults. Does and bucks behave differently of course. The average gestation period of the whitetail deer doe in North America is 200 to 205 days. This period can be shorter or longer depending on the availability of food. When food is plentiful the fawn will be born after a shorter gestation time while the opposite would be true if the food supply is scarce.A whitetail deer doe will birth up to 3 fawns but most of the time they birth 2 or 1. Later in the summer they may then join a group of other does and fawns.
The Whitetail Deer Buck roams freely or in bachelor groups but later in the fall the largest whitetail deer more dominate bucks will roam alone, but they do have specific habits that you need to know about in order to have a successful hunt.
Whitetail deer are hunted mostly with rifles or bows. Bow hunting whitetail deer presents a hunter with fascinating challenges. But whether you hunt with a gun or a bow, there is a lot of whitetail deer information and deer hunting tips offered by professional and recreational sports persons, which can improve your chances at hunting success.
For example, you can learn about deer aging, identifying deer patterns, setting up deer stands, locating funnels, trails, ridges or other places where deer are most likely to be found.
The Perfect Whitetail Deer
The wealth of whitetail deer information that's available reflects the popularity of the sport. If you are an avid hunter or photographer and want to make sure you are doing everything possible to experience successful whitetail deer hunts, you've chosen a great place to start expanding your knowledge of the Whitetail Deer Hunt. I feel you can never have enough Whitetail Deer Information before going to the field.
Who knows . . . one of your Whitetail deer may eventually make it into the world record books. But even if it doesn't get recorded officially, in your mind there will always be the giant buck that took unparalleled skill to hunt.
That's exactly how the great hunting stories begin!
More Information

Stop Buying Expensive Deer Food Plot Seeds Off Internet Sites And Be A Real Hunter And Learn The Secrets Of Instantly Preparing Your Own Deer Food Plots At Only 27% Of The Internet Retail Prices.Click on the link below to check out the book.
"Deer Food Plots Made Easy"
The picture below was taken during the fall 2009 Bow Hunting season. In the picture below are my two hunting friends of the last 20 or more years. The two of them have more knowledge of hunting Whitetail Deer than anyone I know. They have taught me more than I could ever learn from a book. I have been blessed to have such great friends. If you ever want to know how rich you are just count your blessings. The two young men on the other side of me are another bow hunting friend's two sons that have hunted with us since they were youngsters. They are both very accomplished hunters. This to me is a major part of hunting. The friendships are more important than the hunt. We have all taught our children to hunt so the tradition is passed on to the next generation and they are passing this on to their children now as well. We had 3 generations of one family at camp this year. The deer in the picture is a 6 point with 2 points on one side and 4 on the other. We were hunting this past fall on a land trust and had been asked to take bucks and does. I took this one because of the rack. This was a good buck to take out because of the inferior rack. After the picture was taken we skinned the deer and butchered it up and took it home to finish the process. You need to process your harvest as soon as possible. Do not leave your deer with the hide on it. We field dress the harvested deer and then do the proper paper work. Once back at camp the deer is skinned to cool the meat, this will help preserve the meat. We then butcher it. This may take a little time from hunting but I cannot stress this enough. Take proper care of your harvest.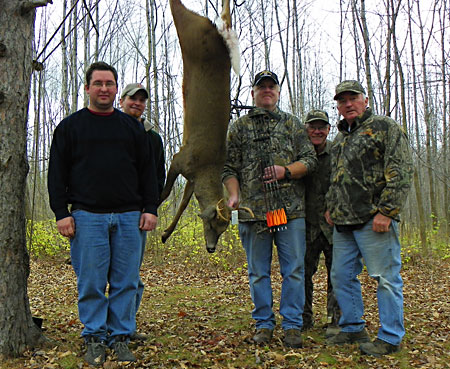 The picture below was taken a couple of years ago at my friends hunting camp. I came to camp late that day, arrived around 10:00am if I remember right. My friends youngest daughter came back to camp all excited. She told me that a doe came into the scrape her father had set up a stand by. Right on her tail was this Monster Typical Whitetail Buck. She took her time and put her knitting down. Needless to say her arrow went perfect. It was a lot of fun helping her trail this Whitetail Buck and make the recovery. What a beautiful animal. So you never know when you will get a chance at a Buck like this. Maybe we should all take up knitting