Whitetail Deer Products
The Scent Problem
One issue that is not addressed for new hunters is the problem of your scent scaring away deer. I found a great solution to this problem.
» Learn more here on this page
Field Dressing a Deer Instructional Ebook
Be prepared to field dress your deer.  This book is for all types of hunters.  Beginning or expert you can learn from this easy to read and understand e-book. It is very important to do a though job to help preserve your meat. Beautiful color pictures make it easy to understand and do. Below is a sample picture from the book. The items below this book are a list of the tools we use and suggest you take into the field with you to do a great job.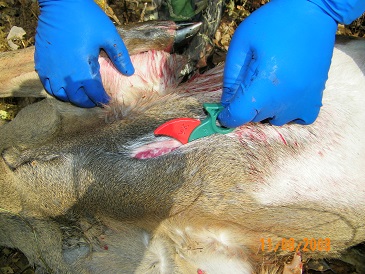 Starting the cut into your deer here.
Tools for Field Dressing a Deer
Butt Out Tool

Buy Butt Out Combo Tool Here
Rubber Gloves

Buy Field Dressing Gloves Here
Trophy Whitetail Buck seems to be looking over his domain.
These Two Trophy Whitetail Deer look to be serious about who is boss Buck