Welcome to Whitetail Deer Hunting Information to Improve Your Hunting Success

It's Hunting Season For Whitetail Deer 365 Days a Year - A Great 
Privilege

 for all

What does the above statement mean.  Think about it without Great Whitetail Deer information why would you think you can be good at going afield in the fall to harvest a Whitetail.  

Any other thing you do in life I would bet you learn how to do it right to succeed, the same applies to deer hunting and more so because of the great respect we have for them.  

I read lots of articles all year long, some that I like and some not.  I also have trail cameras out all year long as well. I have tried so many but the best I have now are Browning.

Below will be a picture of a fawn the forester I work with on my 300 acre parcel of hardwoods.  We just finished work on 10 acres of food plots and a nice pond. Improve Whitetail habitat improves hunting.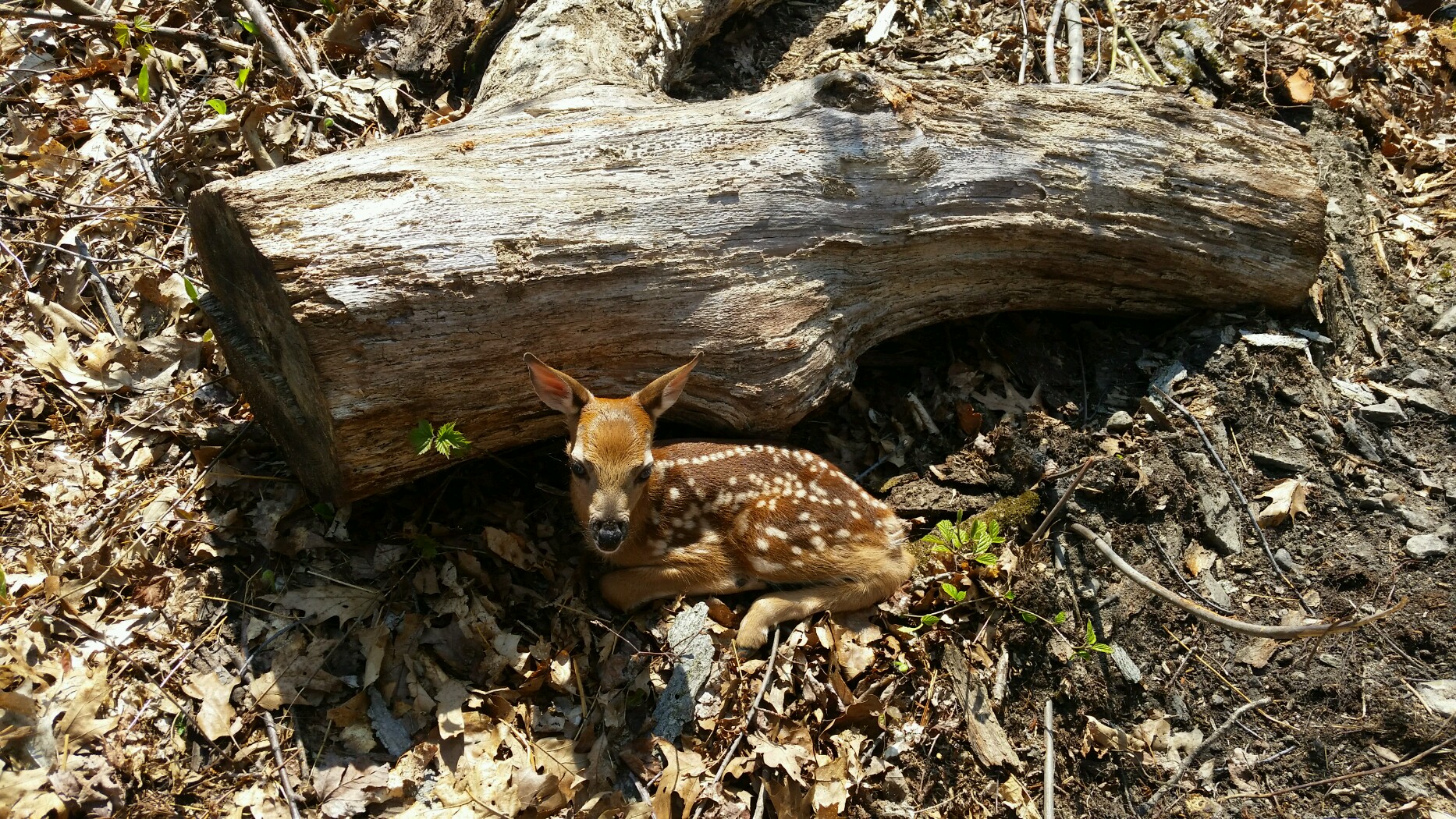 A new fawn could be as new as a week old. What a beautiful animal to find. Mom thought she was in a safe spot.
---
The buck harvested below was taken on the first day of gun season in the southern zone of NYS. He came into the food plot at 11 am.  
This is proof how food plots work so well, this is the largest buck we have ever taken on our property. This proves we know what we are talking about.  
I harvest a nice buck each year, sometimes with a bow and sometimes with the gun.  I work hard each year to bring home some venison to eat.  
Understand it takes hard work and commitment to be successful hunting whitetail deer.  It is also great times with friends and family. Nothing beats being outdoors year around.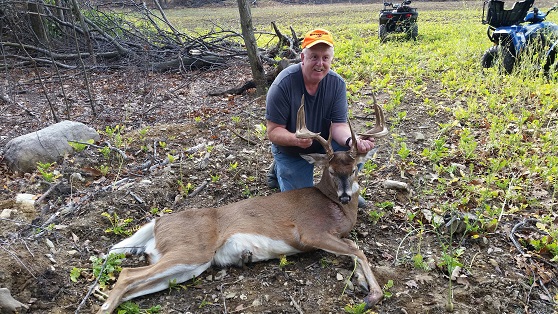 5 1/2 year old 8 pt. 182 lbs field dressed. This is the value of food plots for sure.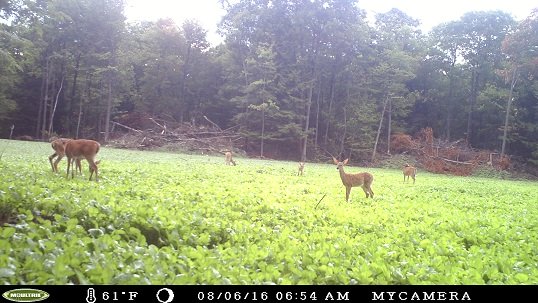 The value of food plots for trophy whitetails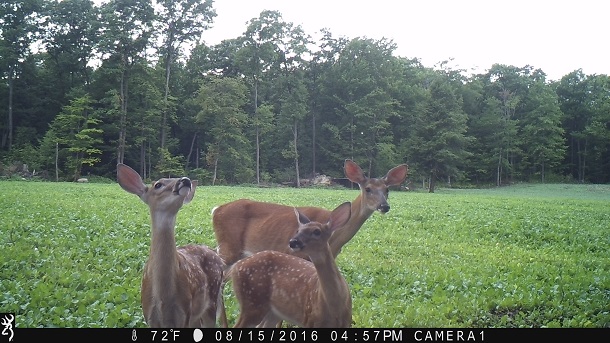 Whitetail Deer Fawns, Whitetail Deer Doe, checking out the camera on the food plot.
---
The pictures above are from one of the Deer food plots we just added to our property, this one is 5 acres.  You need food to attract and hold the deer on your property or hunting area if you lease.
As you can see this does help with attracting and holding Whitetail Deer.  All our work and forest management is done by Cory Figueiredo of Future Forest Consulting. You need to find and use a Forester to manage and guide you with the growth of your deer hunting property.
On our property at this time we only harvest bucks.  In the future we will be watching the buck to doe ratio very careful to keep our herd in balance to their food.
     The buck pictured below showed up several times this season.  I showed this picture to my friends hunting on our property.  
I asked them NOT to shoot this buck.  Why you may ask, because I wanted to make sure he mated with as many does as possible to pass along his genes.  We let this guy go in hopes he would make it into next season as well.  
This is how to improve your herds quality.  Its not always about the trophy for the wall but improvement for the future of your property.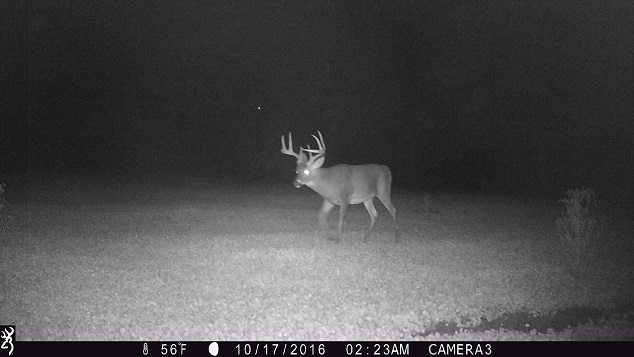 As a hunter you are clearly thinking about hunting strategies and are looking for tips on how to make your hunt successful. Here's some pages you might be interested in...
---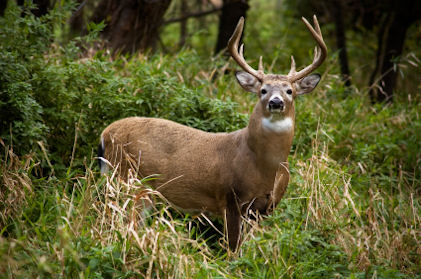 Hunting Whitetail Deer is what a lot of hunters are looking for in this picture.
---
Hunting white tail deer is one of the most popular sports in the country. You can hunt them with bow and arrows, rifles, hand guns and cameras. They are hunted for food and for the challenge of obtaining a trophy rack, or maybe just a great photo.
Hunters who read about world record whitetail deer try and put themselves in the place of the hunter. The thrill of bringing down a giant buck, one with an impressive rack, is something every white tail deer hunter dreams of.  
I have done so myself in 1986 I took an impressive 14 point Whitetail that scored 139 1/8 and was taken with my bow.  That deer made the NYS Big Buck Club and the Pope and Young record book as well.  I only entered it into the NYS record book.  Not being big on entering record books I did not send them the information.  
For me it is great to harvest a nice buck every year.  I do so for the meat as I enjoy it very much and it is nice a lean, great for all kinds of cooking.  Nothing like marinated back straps on the grill any time of year. 
---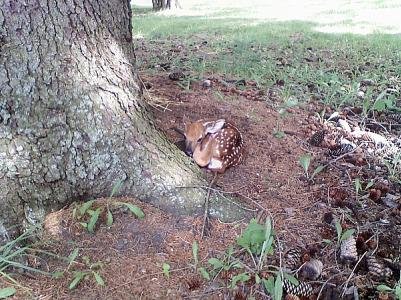 This Fawn could be the next Trophy Whitetail Deer in your area.
---
Learning about the behavior of white-tail deer begins with a good understanding of how whitetail fawns grow into yearlings and then adults.
Does and bucks behave differently of course. A whitetail deer doe will birth up to 3 fawns but most of the time they birth 2 or 1. Later in the summer they may then join a group of other does and fawns.

Whitetail bucks roam freely or in bachelor groups but later in the fall the larger more dominate bucks will roam alone, but they do have specific habits that you need to know about in order to have a successful hunt.

Whitetail deer are hunted mostly with rifles or bows. Bow hunting whitetail deer presents a hunter with fascinating challenges.
But whether you hunt with a gun or a bow, there is a lot of whitetail deer information and deer hunting tips offered by professional and recreational sports persons, which can improve your chances at hunting success.
For example, you can learn about deer aging, identifying deer patterns, setting up deer stands, locating funnels, trails, ridges or other places where deer are most likely to be found.
Hunting for The Perfect Whitetail Deer
The wealth of whitetail deer information that's available reflects the popularity of the sport. If you are an avid hunter or photographer and want to make sure you are doing everything possible to experience successful whitetail deer hunts, you've chosen a great place to start expanding your knowledge of the Whitetail Deer Hunt.
I feel you can never have enough Whitetail Deer Information before going to the field.
Who knows . . . one of your Whitetail deer may eventually make it into the world record books. But even if it doesn't get recorded officially, in your mind there will always be the giant buck that took unparalleled skill to hunt.
That's exactly how the great hunting stories begin!
---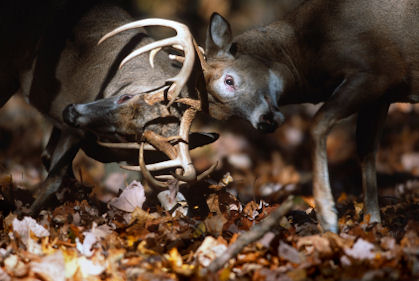 ---