A Point About Deer Aging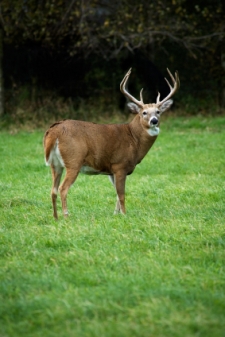 There is really no precise way to accurately do deer aging while hunting, other than looking at the teeth. Despite the many stories hunters tell each other, the size of the antlers and the number of points on the antlers is not a reliable age guide. Antler size is more a function of diet and heredity than it is of age.
There are a few indicators of age that depend on physical characteristics, though. A button buck is a buck that is somewhere between 6 and 12 months old. The buck has nubs on its head which have not protruded through the hide. The nubs are the beginnings of antlers. The button buck looks much like a doe though and is often confused by hunters in the field.
Other physical characteristics which indicate a white-tail deer age include the size and rounding of the rump, whether the belly sags, and the presence of asymmetrical points on the antlers. But even with all these clues it is still not possible to accurately determine a deer's age in the field just by looking at the animal.


---
Learn more about using food plots by going to the following page
---
Taking a Bite Out of Age Guessing
The only really reliable whitetail aging method is to look at the teeth.
The deer's teeth first start to come in at 6 months of age. At 1 ½ years old all of the permanent front teeth have grown in. At 2 ½ years the molars are fully developed. It is around 3 ½ to 4 years old that the teeth begin to show wear. By 7 years old the teeth are so worn the deer can't eat well anymore.
White tail deer have a fully developed skeleton by the age of four. Once the deer is fully developed, the deer's body can concentrate on antler growth. That means the biggest antlers the deer will have develop when the deer is at least 4 years old. But it is impossible to tell the exact age of the buck even with well developed antlers, because you don't know if you are looking at that particular deer's biggest set of antlers.
It is possible to do deer aging by evaluating teeth growth and wear. That is not the only reliable method.
Forensic aging of whitetail deer using the cementum annuli method. The only reliable way for aging whitetail deer - when deer age is required to be accurate and verifiable.
» Go to Forensic aging of whitetail deer using the cementum annuli method
For more information on Deer Aging follow the links below
» Go to Deer Aging Tool from "Deer Aging"
» Go to Deer Aging Articles from "Deer Aging"

---